GAY STORE PRO & CON: The Wedding Singer Musical
PRO: IT'S JUST LIKE THE MOVIE.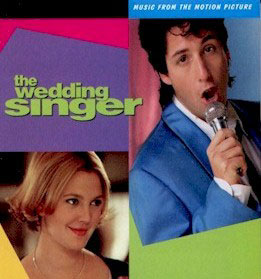 If you're a fan of movie-oke, this show is for you. The same dude that wrote the screenplay wrote this play, so about 90% of the dialogue is from the film. I'm not sure if that makes this an original musical.
CON: IT'S JUST LIKE THE MOVIE.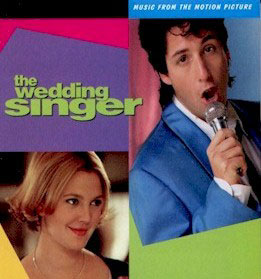 If you have, in fact, seen this movie more than 10 times (and if you have TBS that's definitely possible), you might get bored watching this show, especially in the second act. So you might want to bring a book or something.

PRO: SOME PRETTY GOOD MUSIC.
The entire synth-filled score is truly '80s-rific. Some tunes in particular are pretty wailing. The opening number, "It's Your Wedding Day" could have easily been played by Huey Lewis and the News and, "Right On Time," seems to be the lost Debbie Gibson hit. "Not That Kind of Thing" is simply one of the most infectiously enjoyable songs around.
CON: SOME REALLY BAD MUSIC.
Some songs were clearly written to replace existing songs from the movie, so "Rapper's Delight" was replaced with the truly embarrasing "Move That Thang" and "Love Stinks" was replaced by the eye-roll-enducing "Casualty of Love." I've never wanted the J.Geils Band back so badly.

PRO: FELICIA FINLEY
As Linda, the girl who leaves the wedding singer at the altar, Felicia Finley is a wind-machine-blown-wailing-Tawny-Kittaen-wishes-she-was-ever-this-awesome MIRACLE.
CON: LAURA BENANTI
I've never liked her, and although she's better here than she's ever been in anything else, she's still Laura Benanti. Although she does play Drew Barrymore as sort of retarded. Which is...funny?
PRO: STEPHEN LYNCH.
He is really, really hot. And not just oooh-he's-cute-hot, I'm talking he-plays-the-guitar-for-reals-hot. Okay, so he actually kind of looks like a lady in this photo but they did away with his wig now. Plus he's got some talent to back up that hotness.
CON: RICHARD H. BLAKE.
As the snide yuppie, Glen Gulia, Richard H. Blake could have really camped it up, but he misses every opportunity to do so.

PRO: BREAK-AWAY SKIRTS.
I will forgive a show, or really anything else for that matter, anything if there are break-away skirts involved. In the show, this crinolline combusts into a mini. It is magic.
CON: NOT ENOUGH BREAK-AWAY SKIRTS.
Don't they know the rule of threes? I would have enjoyed this show a lot more if there were at least two more break-away skirts.

PRO: NO ADAM SANDLER.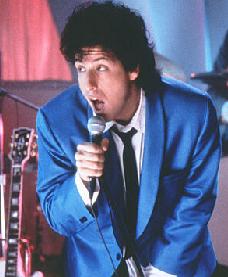 No fart jokes, no penguin references, no weird falsetto voice. Just Stephen Lynch. Hot hot Stephen Lynch.
CON: NO ADAM SANDLER.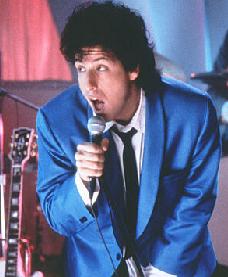 When you take Adam Sandler out of an Adam Sandler movie, there is just something missing. Like I said, Stephen Lynch is really really hot, but it's just not the same when he sings the Sandler songs, "Somebody Kill Me" or "Grow Old With You."


IN CONCLUSION:
This show is worth checking out, but only at '80s prices. So don't pay more for it than you would for a New Coke.

SURVEY SAYS:
2.5 out of a possible 4 Gay Pride Flags.