DOLLY OF THE WEEK: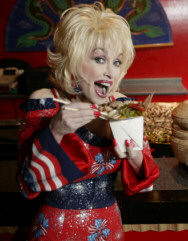 Cookin' Dolly! She has written a cookbook entitled "Dolly's Dixie Fixin's." It includes more that 125 recipes and will raise money for her Imagination Library. Advanced sales began last week and
people who buy the cookbook

will enter to win a backyard barbecue and bluegrass festival with Parton as a special guest

, Dollywood Foundation officials said.
Okay kids - your job is clear. Buy this book and win this prize and take me as your guest for telling you about it!